Takeaway with 500
Snacks
Bruschetta classica (v) £4
Classic bruschetta with tomatoes, garlic & basil (v)
Pizza fritta (v) £4.50
Deep-fried pizza filled with scamorza, mozzarella cheese and tomato sauce (v)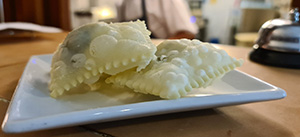 Ravioli fritti (v) £4
Deep-fried ravioli filled with pecorino cheese and dried mint (v) portion of 4 ravioli
Olive "Belle di Cerignola" (v) £4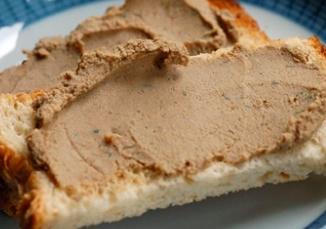 Bruschetta di fegato di pollo £4.50
Bruschetta of home-made chicken liver pate'
Starters
Burrata con pomodorini (v) £8.00
Creamy centre mozzarella with cherry tomatoes and basil (v)
Porchetta £8.60
Porchetta (boneless pork roast), served cold, thinly sliced, with marinated mushrooms and Belgian chicory salad
Trota di mare con mela verde £8.60
Sea trout Lax (cured sea trout in sugar & salt), with green apple, ginger & dill
Zuppa di sedano rapa e tartufo (v) £7.60
Thick & velvety soup of celeriac, potatoes, thyme and black truffle (v)
Gamberoni fritti £8.90
Deep-fried king prawns, served with salad of rocket, orange & chilli
Pasta
Strozzapreti al ragù di manzo £11.90
Fresh (fusilli like) pasta, with slow cooked beef in tomato sauce
Gnocchi salsiccia e pesto £12.90
Home-made potato gnocchi with Italian sausage & wild garlic pesto
Tagliatelle gamberi e piselli £12.80
Tagliatelle with fresh prawns, peas & fresh cherry tomatoes
Ravioli di ricotta, salsa di asparagi £12.90
Home-made ravioli filled with ricotta cheese and lemon zest. Served with green asparagus sauce
Strozzapreti al ragù di agnello £11.90
Fresh (fusilli like) pasta with lamb ragù sauce
Tagliatelle ai funghi (v) £12.80
NOT AVAILABLE
Gnocchi & erborinato Sardo (v) £12.90
Potato gnocchi with a Sardinian blue cheese sauce (v)
Side
Sautéed spinach £4
Sauteed potatoes £4
Mixed salad £4
Rocket & Parmesan salad £5
We will not have any main courses until the re-opening
Dessert
Tiramisu' £5
Italian trifle made with mascarpone cheese, savoiardi biscuits drenched in coffee
Panna cotta £5
Rosemary flavoured panna cotta served with cooked pear and salty caramel sauce
Mousse al cioccolato £5
Dark chocolate mousse served with Barolo chinato gelée and fresh raspberries
Placing your order
On the phone
Just give us a call. Give us your order and most important we'll need to know at what time you'll be at the restaurant for the pick up.
What we want is that you get home with your food nice and hot. Timing is important. Once you arrive at the restaurant you'll just need to pay and collect your food. Buon appetito.
020 7272 3406
Via email…
May result a little unusual but it can be a way to order your dinner too.
In your email give us:
1 – your order
2 – your name
3 – your mobile number
4 – your time of collection
We'll confirm your order with email and text message
SMS too
With the SMS your mobile number will automatically be received with your message so, only give us your order, name and collection time.
In this case we'll only confirm with a text message.
07752592907
We're open for takeaway
Tuesday to Saturday from 17:00 to 21:00
COVID-19
Please wait at the entrance and wait for a member of the staff to come to you.
If possible pay using contactless or card.