Takeaway with 500
Snacks
Bruschetta classica (v) £4
Classic bruschetta with tomatoes, garlic & basil (v)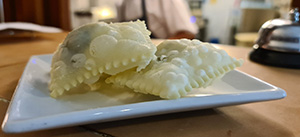 Ravioli fritti (v) £4.50
Deep-fried ravioli filled with pecorino cheese and dried mint (v) portion of 4 ravioli
Olive "Belle di Cerignola" (v) £4

Bruschetta di 'Nduja £4.50
Bruschetta of nduja (very spicy spreadable pork sausage), Sardinian honey and capers
Starters
Burrata con melanzane (v) £8.00
Creamy centre mozzarella with oven-baked aubergines, wild garlic oil and deep fried capers (v)
Cernia, germogli e caviale di trota £8.00
Stone bass carpaccio hand-cut, served peashoots and trout caviar
Prosciutto Sardo, cipolla sott'olio £7.60
Sardinian ham served with home-made pickled red onions and a dash of aged balsamic vinegar
Carpaccio di manzo £9.00
Beef carpaccio with rocket, grana Padano cheese and raspberries
Fritto misto £8.60
Deep-fried prawns, calamari and courgettes
Pasta
Strozzapreti al ragù di manzo £12.90
Fresh (fusilli like) pasta, with slow cooked beef in tomato sauce
Gnocchi di patate e ortica (V) £12.90
Home-made potato gnocchi with mushroom sauce (V)
Tagliatelle ragu di mare e pesto £12.90
Tagliatelle with mix fish ragu, rocket and wild garlic pesto sauce
Ravioli ricotta salsa asparagi £12.90
Home-made ravioli filled with ricotta, lemon zest and chives, served with a green asparagus sauce
Mains
Saltimbocca alla Romana £18.50
Pan-fried veal scallop with ham and sage, served with spinach
Coniglio al forno con patate £16.00
Oven-baked rabbit on the bone with broad beans, served with sautéed potatoes
Orata con faggiolini £16.50
Pan-fried bream fillet on a bed of bread, anchovy and garlic sauce, served with green beans and tomato confit
Nasello con piselli e carciofi £16.00
Hake fillet on a bed of peas, artichokes and fresh mint stew
Side
Sautéed spinach £4
Sauteed potatoes £4
Mixed salad £4
Rocket & Parmesan salad £5
Dessert
Tiramisu' £5
Italian trifle made with mascarpone cheese, savoiardi biscuits drenched in coffee
Chocolate mousse £5
Dark chocolate mousse with a gelatine of fortified Barolo wine and a touch of Maldon salt
Placing your order

Just give us a call. Give us your order and most important we'll need to know at what time you'll be at the restaurant for the pick up.
What we want is that you get home with your food nice and hot. Timing is important. Once you arrive at the restaurant you'll just need to pay and collect your food.
Buon appetito.

Wednesday to Saturday from
18:00 to 21:30
Sunday from 12:00 to 20:30
CLOSED MONDAY & TUESDAY
COVID-19
Please wait at the entrance and wait for a member of the staff to come to you.
If possible pay using contactless or card.